Connecticut
Erotic, Sensual, Tantra, Therapeutic and NURU Massage


Sofia

Tantra Massage Teacher and Trained Bodyworker
Sensual Ceremony and Tantric practice have been the most powerful influence in my spiritual evolution. The practices that I have learned and make a part of my life allow me to rest deeply in my humanity... my senses, my emotions, my desires and to be generous, compassionate and awake in them. I'm definately not a "guru". I'm a passionate student...
Massage Profile
I've met Sofia a number of times for her massages and she is the best I've ever met! She provides...
More massage review
Specialized in : Erotic, Sensual, Tantra massage
An Extraordinary Encounter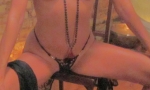 The Sensual Arts: Conscious Intimacy Rituals
Greetings! Tantric bliss is energy expressed with sacred intentions. I choreograph erotic sensuality and conscious intimacy rituals~ I am fit, 115 lb, with over 15 years of experience facilitating Taoist Sex Education, Shakta Tantra, Tantric Yoga and Kundalini Activation. I am a psychologist, sex researcher, educator and coach for men, women and couples~ I offer men, women and couples: *Tantrassage: Fusing Lomi-Lomi, Cranial...
Massage Profile
Absolutely the best massage experience I have ever had, simply amazing..............
More massage review
Awesome Tantric experience, one of the best I've get (and I've get a lot of them)! She has an extended knowledge...
More massage review